The new environment (globalization, speed, the internet, new technologies and the way we relate to each other) means that a business strategy centered on customers is necessary. This is where innovation gains great importance, in which companies must offer products and services of value for customers that allows them to achieve a differentiation, this means; anticipate your competitors achieving positioning to obtain competitive advantages.
The essence of the business model is the way in which the company offers or delivers value to its customers. The key is the value proposition and how it is able to convert it into benefits (income). It puts the focus on customers and their needs.
It is no longer focused on obtaining revenue but on generating value for customers and strategic positioning. For that, it is essential to analyze the go to market: value, target, behaviors, needs, and way of reaching the customer (channels). Business models are no longer just a financial issue but one of strategy and innovation.
Technological innovation does not guarantee the success of the business. The definition and development of a good business model together with a careful strategic analysis are necessary for technological innovation to contribute to commercial success. Innovation allows companies to generate competitive advantages and make it difficult for others to imitate the model.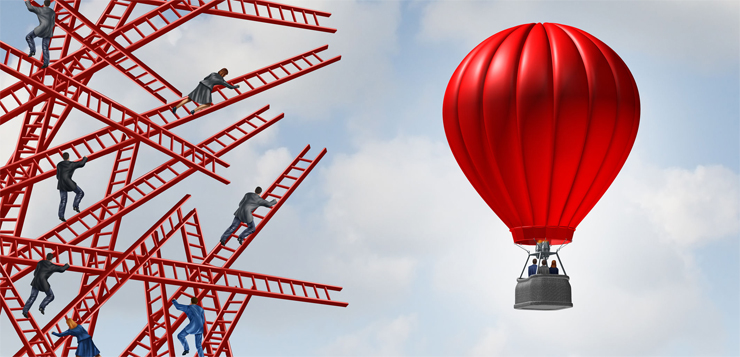 Some cases of companies that applied innovative business models
The business models at the beginning of the 20th century were quite simple: something was manufactured or a service was provided and you sold it live. However, little by little, new alternative ways of generating income were created. Some cases that I would like to quote are:
Gillette: In 1901, King Camp Gillette put on the market the first razor blade that avoided the uncomfortable incidents of performing this daily task with a razor-sharp knife. In this way I think that, if I was able to offer good razors at a very competitive price, customers would be happy to pay for the blades (which would require periodic refills).
In this way, Gillette's innovation and renewal of the product cycle is something that it does very well. In fact it is one of the companies whose consumers are more loyal to the brand. Practically every year there is a new release, if it is not a new razor with one more blade, it is a red one with the name of "Formula 1" or one that vibrates while you shave
Xerox: When Xerox introduced its 914 model in 1959, with features well ahead of the photocopiers that were sold then (and much more expensive), it decided to innovate in its business model: Instead of selling each machine in the traditional way, the I would rent an additional $ 0.04 USD for each copy starting at 2,000 monthly.
The beginnings of this growing market segment began as street copy shops where people could copy as many documents as needed. The idea soon extended to the internal management of copying and printing operations for large clients. Today, its Managed Print Services have grown considerably under an innovative business model scheme.
IBM: changed in 2003 its business model and its model of generating business, from the manufacture and sale of computers and hardware, to a business based on offering innovative services and information technology (IT) solutions. He sold his PC development unit to Lenovo, hard drives to Cisco and printers to Lexmark. Thus; IBM became the world's largest enterprise data recovery, consulting and data recovery services company, turning around the types of business models known until then.
In this 21st century, new disruptive digital scenarios appear every day in which technologies such as big data, blockchain or artificial intelligence are promoting the creation of multiple possibilities for the structuring of business models, which were hitherto impossible or, at least, , unthinkable a few years ago. In this way, innovating with the business model increases the chances of dodging the competition, positioning itself preferentially in the head of the client, facilitating access to the much desired blue oceans.
Types of business models used today
1. Models of 2 or several sides
These are business models in which there are at least 2 (although there may be more) groups of customers interdependent with each other (sides). This type of business model is born from the fact that one of the parties benefits if the other is present, being therefore the main objective of the company to facilitate the interaction between them, acting as an intermediary and maximizing the network effect.
The key premise for this approach to succeed is that it must attract and create value to both sides equally. If it only offers real value to one of the parties, the other quickly decreases and ceases to have value by itself. Some success stories in this regard are: Google (connects advertisers with users of their products), manufacturers of video game consoles Nintendo, Wii or PS4 (connect video game developers with customers), credit card manufacturers (connect buyers with the stores).
2. Long Tail (Long Tail)
Chris Anderson in his article of Wired I invent, and is based on the fact that certain businesses exist finite resources that force the company or business to choose to sell only the products that are expected to obtain better sales. It is called "Long Tail" to the model in honor of the sales distribution chart, in which a small set of references accumulates most of the sales (bestsellers), with the rest of the references being sold more occasionally (the tail ).
In this case, instead of obtaining benefits only from the items that sell the most, it is possible to obtain income by selling by volume on items that sell very little. In this case, an effective system of recommendations should be available to drive customers along the queue, generating sales of the less-sold products and / or services. The best example in this sense is Amazon and its electronic books (it's interest is to sell the e-books, nevertheless it sells physical books by demand).
3. Bait & Hook (Bait and Hook)
Also called "razor and blade", its popularization is due to the manufacturer of razors Gillette. It is based on the presence of an attractive and very cheap initial offer that builds customer loyalty with the brand, and that subsequently encourages the customer to continue buying products or services. It changes the obligation and complexity of selling new units every month only to have additional recurring income to the units sold ... at the cost of assuming initial losses.
The same case presented Telecommunications operators, when we want to change the mobile plan makes us a very attractive offer (bait, assuming the total or a large part of the cost of the mobile) in exchange for a contract of permanence of 1 or several years (hook) , which is where it generates the real benefits, derived from having a captive client.
4. Cloud and SaaS (Software-as-a-Service)
The main value proposition starts from the transformation of a product into a service, and from a fixed expense into a variable one. The client does not have to purchase expensive software (product, fixed cost), which must subsequently install on additional hardware and pay for a subscription and support (variable, periodic), but pays to receive a service month by month (or annually ).
One of the best known cases is Salesforce, which is a CRM (Customer Relationship Management) software in which the user only pays to access the software (number of users) and by which modules it requires to use (functionalities) , instead of paying for an expensive CRM that you must buy, install and maintain. Another example is the company LiteBi, who have been able to put a complete software within reach of any company regardless of its size.
5. Freemium
It is a particularization of the two-sided business model, in which one of the two sides continuously receives a service and / or product completely free of charge. In this way customers who do not pay should be subsidized by another client base if they pay for more extended services.
Because of this approach, some companies on the internet today go through offering a basic (free) service to most users while a small amount of them pay an amount to obtain a more complete (premium) service. This is possible only if the services are based on a platform that adds costs and makes it very cheap to scale them (given that the ratios of users who pay vs. free users is usually around 1-2%). Here I can cite well-known examples of this type of business model as: Spotify, Dropbox, LinkedIn, Unbounce.
6. Co-Creation and Crowdsourcing
Crowdsourcing is a different approach to the creation of value, and is based on involving a large crowd in the resolution of a problem or the provision of a service in exchange for a reward. There are multiple ways to use crowdsourcing as the basis of a business model, but in my opinion these are the best:
Pure communities: (from Wikipedia or iStockPhoto to Threadless), where the crowd performs tasks typically performed by internal staff and whose business model has been built based on this approach.
Challenges and / or Challenges: It really is a particularization of a two-sided market with a few drops of crowdsourcing: A series of users (business side) proposes mass to a problem, and the winner of the contest (crowd side) receives the payment at resolve the contest. A classic example is that of design auctions like 12Designer.
Technology fairs: Places where companies can "rent out" a crowd (universities are usually used) to solve problems of a scientific or technological nature in exchange for a reward, or obtain very valuable feedback from clients or users (it is a materialization of Open Innovation). The most prestigious are WorthIdea, Innocentive and NineSigma.
On the other hand; It is necessary to emphasize that innovation in the business model not only involves developing new business models, but also adapting and combining existing business models to other market segments.
I hope this article is useful for you to think about innovating and improving your business model and find the one that best suits your idea or business project to turn it into an innovative business project.
WISH TO MAKE AN ADDITIONAL COMMENT